Conversations With Cottage Grove: Insights Into Our Happy Place for Assisted Living Residents
Category News & Blog | Time | Published November 20, 2023
< Back to All News & Blog
---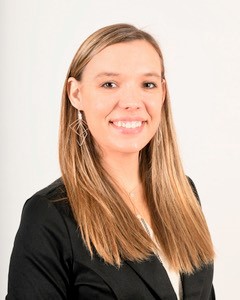 Kayla Duggan knows a thing or two about senior assisted living and how it provides older adults with just the right amount of support they need to keep doing the things they love. She joined Cottage Grove Place staff five years ago as the health and wellness navigator, coordinating services and helping residents transition to different care levels—a role that evolved into assisted living administrator two years ago.
Kayla is in her happy place working here and empowering residents to live their best lives, but her connection to Cottage Grove Place isn't just professional—it's personal. Her grandma, Aggie, is also in her happy place as an assisted living resident.
"My grandma started in independent living six years ago before transferring over to assisted living. I hear from my aunts and uncles all the time about how much they love the care here and always knowing someone's going to be there to support her," Kayla said. "While my grandma does have a bit of dementia, she's doing really well in assisted living, and our family is reassured knowing Cottage Grove Place offers memory care if needed in the future."
We sat down with Kayla recently to find out what is assisted living for seniors and Red Cedars Assisted Living at Cottage Grove Place.
Q: Let's start with a basic assisted living definition, your role and what is assisted living at Cottage Grove Place?
A: Assisted living for seniors is a residential setting where older adults get help with their primary care needs while maintaining some level of independence. Here, our specially trained team creates personalized care plans to assist with the activities of daily living, such as bathing, dressing, toileting, grooming and meals.
Whatever residents need, it's always their choice. For example, we handle medication management for most of our assisted living residents, covering everything from ordering and administering medications to pharmacy and doctor communication. However, some residents prefer us to handle the ordering while they manage their own administration. We can be as hands-on or as hands-off as they want.
I make sure residents have the necessary support to succeed in their current level of care. If their needs change or they require a different level of care, I work with the interdisciplinary team to facilitate the transition, including health center staff, nurses, dietitians, therapists and social workers.
Q: Give us a few examples of the social, cultural and recreational activities offered to residents.
A: Our activities director comes up with exciting things for residents to do every month. One day, they might attend a classic car show on campus and another they'll take a flower arranging class. And, of course, there are plenty of fun food and beverage-related activities—from themed happy hours to waffle and taco bars. Off-campus, they'll go out for lunch and shopping, take a scenic drive to pick apples at a local orchard or have a picnic at a nearby state park.
Q: What other ways do assisted living residents come together in their happy place?
A: They love bingo and trivia, gathering to cheer on their favorite football team and watching movies in our theater. Many of our residents also love to sing and dance. Our live music events are popular, so we try to have a few of those a month—whether it's regional performers or a resident from independent living who shares their musical talents with us.
Q: How do you help assisted living residents stay fit and active?
A: Holistic health and wellness is a top priority in at Cottage Grove Place. We offer exercise classes each morning and coordinate outdoor group walks for assisted living residents. Many of them also use exercise equipment in our state-of-the-art fitness center. Residents also benefit from consultations with registered nurses and dietitians.
Q: What's the most common misconception you hear about assisted living?
A: The biggest misconception is that they'll lose their independence. In assisted living, residents can come and go as they please. Many enjoy going out to events and dining with friends and family. Moving here isn't about losing independence; it's about gaining support where needed. And, while our LifeCare® members enjoy priority access to assisted living and memory care services, residents from the broader Cedar Rapids area can privately pay for their care when space permits.
Q: What are some of the ways you keep assisted living residents safe?
A: Our 24-hour emergency response system and continuous staffing prioritize resident safety.
Assisted living residents have medical alert buttons available 24/7 for staff assistance. We also conduct routine checks day and night to ensure their well-being and promptly attend to any needs.
Q: Tell us about the assisted living residences at Cottage Grove Place.
A: In our original assisted living area, you'll find cozier, smaller rooms with a warm and homey ambiance. Red Cedars, our newer assisted living space, has a modern vibe with bright colors. We strive to create comfortable residences at every care level and have assisted living floor plan choices to fit different budgets and lifestyles. Apartments range from 423 to 1,500 square feet and feature kitchenettes, large bathrooms, ample closet space and individual heating and cooling controls.
Q: How do you help connect assisted living residents to nature and the outdoors?
A: Most of Red Cedars and our original assisted living building offer views of our new courtyard and provide easy access to its patio and walking paths. There are comfy seating areas by all the exits, so when they step out from any door, they can enjoy the outdoors. We have plenty of cozy seating spots, outdoor patios and landscaped areas where they can soak in the area's natural beauty. Residents will head outside to catch up with friends over coffee and donuts on the patio or relax with a good book and a glass of lemonade. We have mini-libraries on every assisted living floor and larger libraries in our independent living area, so there's always plenty of reading material.
Q: What other senior assisted living services and amenities give residents a helping hand so they can focus on the things they love?
A: We want them to enjoy as much freedom as possible so we take care of all the utilities and maintenance, such as personal laundry services, weekly housekeeping and linen service, lawn care and snow removal. Residents don't need to worry about cooking either; we have multiple options ranging from grab-and-go snacks to chef-prepared, sit-down meals. They also can use our private dining room for birthdays or other family celebrations.
Q: Have you heard feedback about how Cottage Grove Place sets itself apart from other communities that offer assisted living?
A: I've had adult children of residents reach out to tell us how appreciative they are of the care and how happy their parents are to be here. We've had a few residents who moved here from newer or flashier communities, but once they got there, it just wasn't home. So they came here and immediately connected with other residents, feeling more comfortable and enjoying the welcoming atmosphere at Cottage Grove Place, which we love to hear. Another thing we hear residents express appreciation over is the fact we provide incontinence and medical supplies as part of our all-inclusive service, without additional costs. If residents require more assistance, we aren't going to hike prices.
Q: Does Cottage Grove Place offer support for family members or at-home caregivers?
A: Red Cedars offers respite care for family members or at-home caregivers. We'll have adult children or a spouse reach out because they're leaving town or they just need a little break. We provide the same level of excellent care and services for our guests as we do for our residents.
Contact our team to learn more about assisted living for seniors at Cottage Grove Place and how our community can be a happy place for you or a loved one.
---
< Back to All News & Blog