Senior Pet Project? Consider All the Aspects of Pet Ownership Before Taking That Particular Walk
Category News & Blog | Time | Published May 25, 2023
< Back to All News & Blog
---
You would be hard pressed to find someone whose day is not made better by an encounter with a lively pup or a frisky kitty. But owning and caring for a pet is, of course, a responsibility that comes with an investment of time, energy and, you guessed it, money. Most can agree interacting with pets makes us feel good. But it turns out there's scientific evidence that snuggling with Scooter and fussing over Fifi can have actual positive effects on your mental, physical and emotional well-being. For seniors, those benefits may even be magnified.
At Cottage Grove Place in Cedar Rapids, Iowa, residents enjoy a pet-friendly community that celebrates the special bond seniors have with their beloved animal family members. Community executive director, David Snyder, shares that their love of pets aligns with our commitment to wellness in all its forms. "We know pets bring residents so much joy, and even for those residents who don't have pets, they love interacting with their neighbors' animals." With plenty of outdoor walking spaces, long hallways within the community's buildings and dog treats at the front desk, Cottage Grove Place is a happy place for pets.
Science Says Yes to Pets
According to the Centers for Disease Control and Prevention (CDC), the benefits of having a pet in your life can be significant. A healthy relationship with a healthy pet can provide a boost in many ways, including: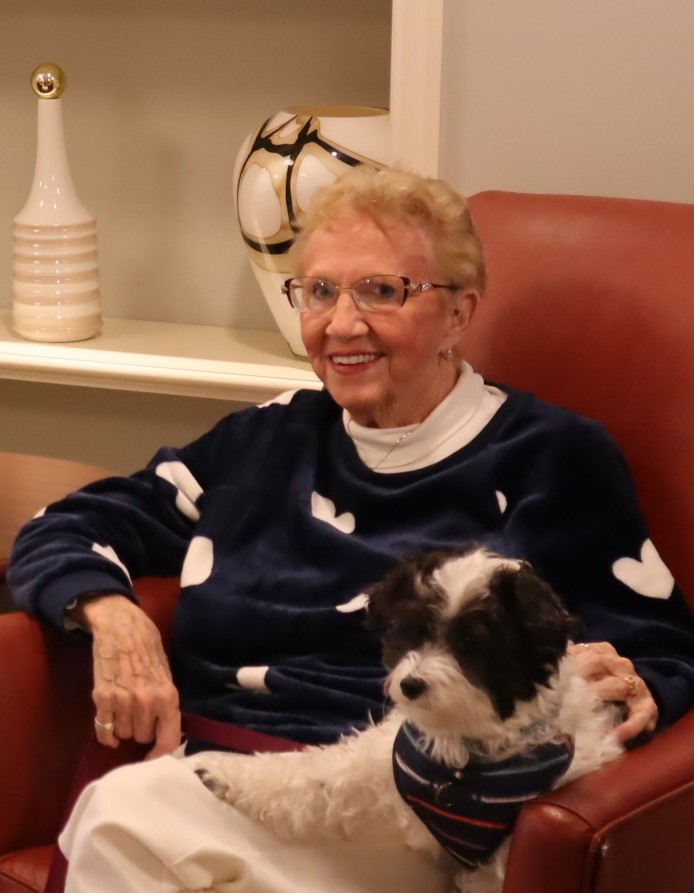 Increasing your opportunities for exercise and outdoor activities
Contributing to better cognitive function
Giving you more opportunities to socialize
Having a pet is also linked to physical health benefits such as:
Decreased blood pressure
Lower cholesterol and triglyceride levels
Pet ownership has also been shown to help reduce negative feelings associated with:
Loneliness
Anxiety
PTSD (post-traumatic stress disorder)
If you're thinking about adding a pet to your household, consider all of the aspects of pet ownership before deciding whether now is the time to adopt an animal. Once you've decided you have what it takes to take a pet in, consider what type of animal is best for you. Choosing the right pet is key to making sure both you and your four-legged (or finned) family member are getting the best from the relationship. Start by asking yourself these questions:
Do I have enough time to properly care for and clean up after a pet?
The good news for retirees is that, in many cases, they really do have time to devote to caring for and tending to an animal. But you'll still want to consider your travel schedule and how much time you are away from your home. There are always options like kenneling and pet-sitting services to help out while you're away, but animals are happiest when they're with their two-legged companions.
How much exercise does the animal need?
Dogs, no matter their age, breed or temperament, need to walk or play outside every day. If you do not have access to safe walking paths or a secure dog park where you can sit while your pup plays, a dog may not be right for you. But even cats need exercise. Be sure to read up on the best ways to keep your furry friend physically active.
How large will it become?
When considering the size of the animal you choose to welcome into your home, it's not just the space you have or the size of your yard that is important. Think about whether you'll be able to control the dog on a leash or lift it into the car should you ever need to transport it. As you age, your balance may not be what it once was and a dog can easily, and of course unintentionally, pull down even the sturdiest walker.
Make sure you understand the kind of food that's best for your pet and consider the cost of that food. High-quality pet food (just like most things) has gone up dramatically in price as of late. Make sure your budget allows for this cost.
How much will veterinary care cost?
Budgeting for vaccines, flea and tick treatment, unexpected health events, and regular vet checkups is essential when considering a pet.
How long will this animal live?
It's a practical matter that you must consider: Will your pet outlive you? If it seems likely—remember, cats can live as long as 18 years so you'll want to make a plan for who will take care of your sweet four-legged companion after you're gone.
Are pets permitted in your house, apartment or condominium?
Most apartments and condos have rules about pets and sometimes require an additional monthly fee tacked onto your rent. Even in neighborhoods with freestanding homes, there are often rules homeowners must follow regarding the care and keeping of their pet (fence regulations, requirements for cleaning up pet waste, etc.). On top of that, many cities require you to license your dog or cat and pay a small annual tax on that pet.
So, you've decided you have the time, energy and money to bring a pet into your life. What kind of pets make sense for seniors? Although every animal is unique in its personality and temperament, there are some that make more sense as pets for the elderly than others.
Best Pets for Seniors
Dogs–Cavalier King Charles spaniels, Shih Tzus and Maltese are great breed options for older Americans to consider as pets. Most animal rescue organizations will have mixed breeds of these types of dogs as well. They're large enough that you won't trip over them but small enough to generally manage.
Cats–Shelters tend to have lots of cats in need of good homes, and they make excellent pets for seniors because they are generally low maintenance. Cleaning out a litterbox regularly and making sure your cat has plenty of fresh water and food specially made for felines is about the extent of the at-home care and keeping of a kitty. They do need stimulation every day—whether that's through interaction with toys or a quiet grooming session while you brush their fur. With love and attention, a cat can be great company and a relatively easy pet to incorporate into your home.
Fish–Fish are perhaps the easiest pets for seniors, and watching them swim can be soothing. Goldfish are typically inexpensive and a good first choice if you've never had fish as pets. They do need more than just a bowl—goldfish do best in a small aquarium, with a filter. Do your research on how to keep the tank clean and your fish healthy, and you may just discover having fish is as much a new hobby as it is expanding your family.
Seniors for Seniors: A Good Match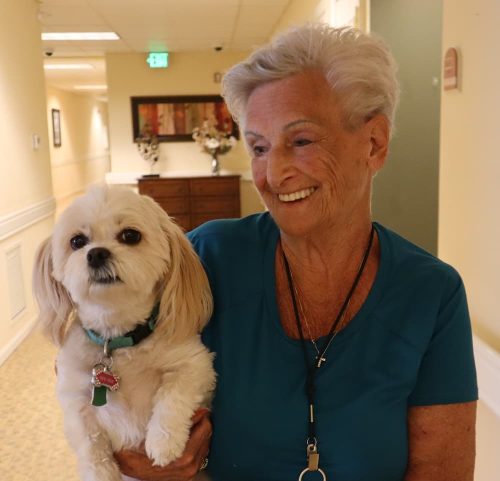 Animal shelters across the country are full of pets just waiting for adoption day. If you've decided what kind of pet is right for you, consider adopting a senior pet. Older cats and dogs tend to be overlooked—but they make some of the best pets for older Americans. They tend to be slower and less likely to need as much exercise (but make no mistake, they still need some activity). They are generally more socialized with other people and animals, making them perfect for community life like senior living. And they are likely to be fully housebroken, making accidents on the carpet a nonissue. Check out a local shelter to see if a senior pet is right for you. Here are just a few in the area:
Whether you decide pet ownership is right for you or not, know that residents of Cottage Grove Place simply love sharing the tail wags and quiet purrs of their own sweet dogs and cats. Come meet our happy residents and take a tour of our beautiful community to see if it's the right fit for you (and Fido).
Set up a visit today: Contact us here.
---
< Back to All News & Blog