What Residents Say About Cottage Grove Place
Category News & Blog | Time | Published December 29, 2020
< Back to All News & Blog
---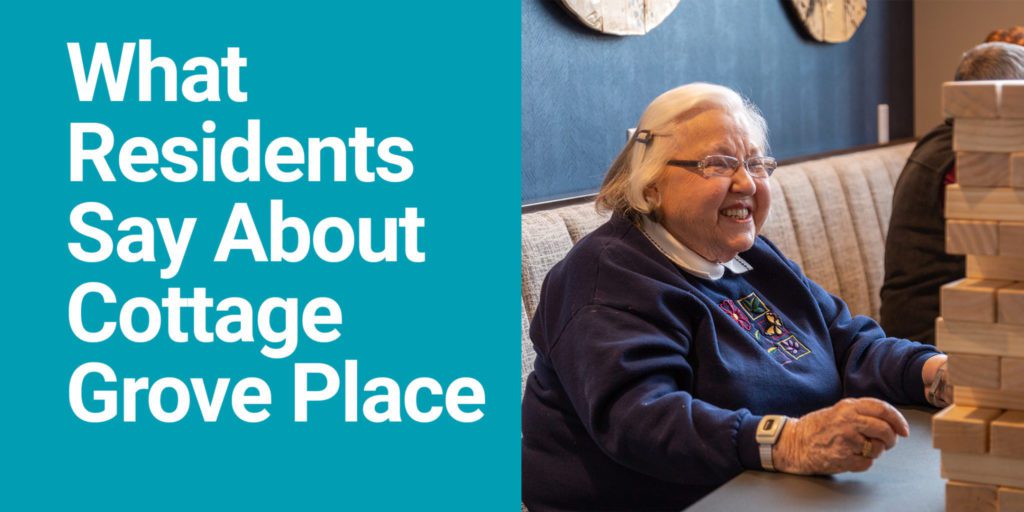 What Sharon Says:
"My first connection with Cottage Grove Place was in 1996 when it first opened. My mother moved in at the time of the opening. The thorough, caring attention she received during her life at Cottage Grove from the staff was impressive to my family and myself. Thus, I came to an easy conclusion that I would follow in her footsteps at a future time, and I have never regretted my decision. I have found a wonderful home here due to the efforts of the excellent staff in all departments. All amenities meet my needs, and the activities offered cover interests in many areas. Making the decision to enter here relieved my family of many responsibilities they might have had. The decision was a relief for them, and my family has expressed definite satisfaction with my life here. They are able to witness how happy I am. And finally, the atmosphere offers a 'homey' feeling due to the caring attitude of the staff and residents toward one another. What could be better?" —Sharon, Cottage Grove Place resident
What Byron Says:
"We are pleased and happy to be a part of the Cottage Grove Community. The staff is excellent— friendly, helpful, desiring to know us and become a part of our lives. The meals are very good and offer a nice variety of menu items. It is wonderful to have The Grille which is available for any food alternative or snacks, and is a great place to gather and socialize. The facilities are wonderful. It feels like home, which is one reason we became residents here. We know this is the place we will be as long as we are alive which enables us to feel safe and at peace. Our sons are very grateful for this safe place for their parents. Cottage Grove Place is the 'place' for us. We are well taken care of here and also very happy. It is top notch!" —Byron, Cottage Grove Place resident.
What Ann Says:
"It was following my husband's stroke in 2009 that we chose Cottage Grove Place for retirement living. Among the many appealing features were the wide range of floor plans, dining options, maintenance-free living, local transportation, healthcare facilities, activities, and most important of all – LifeCare security. Dean recovered from his stroke, and spent more than 10 enjoyable years in independent living before his health began to decline. He moved to skilled nursing, assisted living, and finally long term care, while I stayed in our apartment, all on the campus of Cottage Grove Place. I, as well as my three children, have been most grateful for the excellent care and support offered here at Cottage Grove Place during COVID-19, the derecho in August, and Dean's last days. It has been the best!" —Ann, Cottage Grove Place resident
What Marion Says:
"After living in Colorado for 56 years, it was time to downsize and move out of my large home and closer to my roots. It was one of the most difficult decisions and processes of my life. The process took several years for me and my significant other to think about, discuss and visit in person. After about a dozen facility visits in Iowa communities, we found Cottage Grove Place in Cedar Rapids. It felt "right" for us, plus many family members live nearby. A common expression among seniors is "we're just not quite ready", which we can relate to. After living here for a year, in retrospect, I am glad we didn't postpone the process any longer. We plan to participate more in the variety of things to do here, while maintaining our individuality and privacy. Although a difficult decision and process, we feel confident it was necessary and worth the effort. We both agonized over giving up so many "things" with many memories attached, to a different community and lifestyle. Purging is not easy; nor is leaving the familiarity of home, neighborhood, community, church, friends and much accumulated "stuff". A period of grieving is to be expected, but we are both grateful we chose Cottage Grove Place, where the staff is dedicated and committed to helping us look positively forward to a new way of life. Plus, Coping with Covid-19 and the Derecho has been much more tolerable here." —Marion, Cottage Grove Place resident
What Alan Says: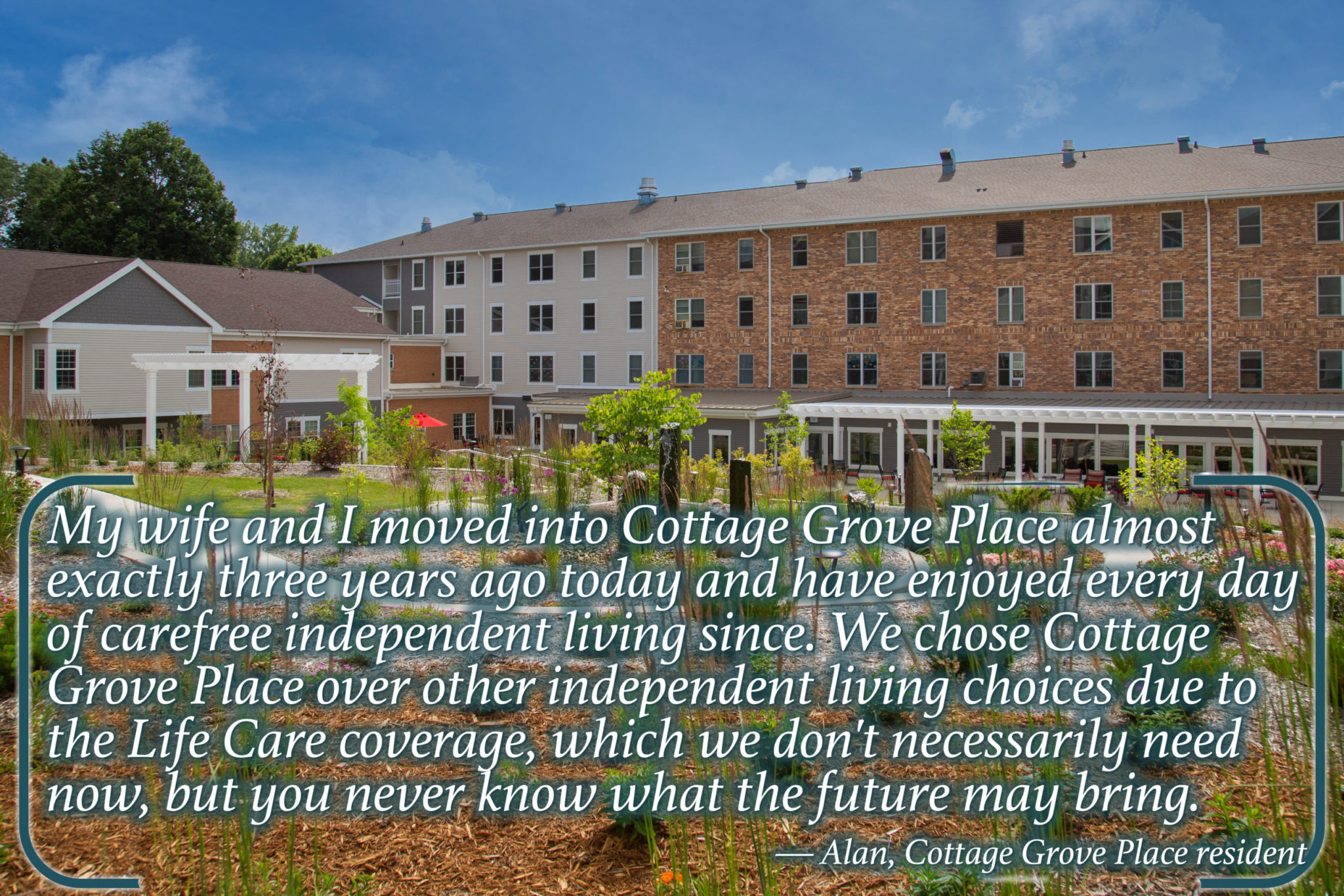 "My wife and I moved into Cottage Grove Place almost exactly three years ago today and have enjoyed every day of carefree independent living since. We chose Cottage Grove Place over other independent living choices due to the Life Care coverage, which we don't necessarily need now, but you never know what the future may bring.
With the recent Derecho event in Cedar Rapids there was considerable damage to the 3rd floor apartments of the Commons Building in which we had an apartment. All residents of the 3rd floor were moved to other apartments in the complex (a new building had recently opened with many apartments available) while water damage repairs are being made to virtually all ceilings and some walls. We were very fortunate that we could move to a "new" apartment with the same floor plan but on the first floor. Cottage Grove staff and "Caring Transitions" did the pack-up and heavy lifting of our furniture and belongings to the "new" apartment. We have the option to move back to the original apartment when repairs are completed or to stay in the "new" apartment. We will stay in the new apartment which has some advantages to the "old" in that it is on the first floor and this provides much easier access to the outdoors when walking our two small dogs. Despite incredible challenges during this storm recovery period, some 35 residents and all their belongings were relocated in just over a week!. While this was an unplanned move for us, it happened in a safe and timely manner with minimal effort on our part and no additional expense to date. Our old neighborhood suffered considerable damage from the storm, with many trees down/damaged and some structural damage to homes. We were glad not to be faced with the expense and the effort of finding and scheduling reputable contractors in a timely fashion, We are in Independent Living and are free to come and go as if we were in our old home (this is our HOME now).
In this age of COVID there are common sense rules in place regarding wearing of masks and social distancing with some restrictions on visitors, but this is for the safety of the community in general – most people willingly comply with the guidelines. Stricter rules are in place for the Assisted Living and Health Center areas of the complex for the overall safety of the entire population. My wife is a knitter and spends time knitting sweaters, hats, and such when not reading and participating in volunteer work outside of the Cottage Grove Community. There are several groups of people that gather for knitting or card playing, or reading. I spend considerable time in the Cottage Grove Place Resident's Wood Shop. This is a very well equipped shop with virtually all of the tools (large and small) donated by past/present (and presumably future) residents who enjoy woodworking. We make everything from gift items for sale in the "Corner Store" to furniture items for ourselves and other residents, to making repairs/modifications to resident's furniture to better suit their needs. The shop is self managed by the residents who use it. With a variety of skill levels, it is interesting for us to see and learn new techniques to accomplish the same end solution/goal. My wife and I are both thriving in a true "Community" along with retirees from virtually all occupations (engineers, lawyers, farmers, doctors, teachers, accountants, and you name it). COVID has curtailed the larger group activities, but smaller groups are still able to gather, socially distanced and masked, to play cribbage and other card games. We have a billiards room with three tables that draw the pool players for friendly competitions. We all look forward to returning to outside activities once the virus is controlled/a vaccine becomes available, but in the meantime there is no lack of things to do. In summary, we live in a safe and diverse community where most of the old responsibilities of home ownership are gone, leaving us free to pursue our interests with the support of our new-found friends." —Al, Cottage Grove Place resident
---
< Back to All News & Blog